Trivia Night 2019
May 29, 2019 @ 6:00 pm

-

9:30 pm

|

$25
Event Navigation
The Compassionate Friends Trivia Night is on once again.
Think you're smarter than the average? Head filled with random bits of knowledge? Want to enjoy a night out with friends in a safe, welcoming environment?
Shake out the mental cobwebs and join us for a night of testing your brain power, connecting with friends and help us to support bereaved parents, siblings and grandparents.
Get a group of friends together and book a table of 10 or let us join you up with other great minds.
Trivia will commence at 7:00pm sharp. Why not organise your friends to come early and enjoy a bite to eat beforehand? Food and drinks at bar prices.
100% of the proceeds from this night will help us to continue providing support and building hope for our bereaved families.
NEARLY SOLD OUT!
We would like to thank the Richmond Union Bowls Club and St. Columba's College Essendon's Year 12 Cert III in Events class for their support of this evening. 
This night wouldn't be possible without the generous support of the following organisations:
Girls Night Out
Enjoy an exclusive, after hours night out for 10-15 friends at your choice of Ark Clothing Co. store.
Catch up over a glass of bubbles and nibbles, then sit back and relax while the styling specialists at The Ark Clothing Co. run the workshop of your choice including a mini fashion parade to help you dress in style. Each attendee will also receive a complimentary one-on-one styling session.
Valued at $550, it will be a fabulous night out with the girls.
Kindly donated by The Ark Clothing Store 
Reconnect with your Physical and Mental Self
Kindred Movement's vision is to make yoga and wellbeing accessible to the community as a whole on a physical, spiritual and financial level, regardless of experience, varying age or shapes and sizes.
Enjoy a welcoming and safe environment and explore a deeper connection with yourself with this 12mth unlimited membership valued at $1,200.
Kindly donated by Kindred Movement
Learn to take the holiday snaps that make your friends green with envy! 
Travelling overseas and want postcard worthy photos? Learn how with a professional photographer in some of the most photogenic cities in the world. Your local guide will show you hidden treasures, stunning architecture and help draw out your creative side, all while practising and perfecting your photography. This amazing voucher provides you a 3hr experience in a city of your choice including Singapore, Venice, Barcelona, Sydney, Paris and more on either a day or night tour. Click on the link to see all the cities available and your next decision will be which city to holiday to.
Valued at $320, this incredible immersive experience was donated by Aperture Tours.
Oroton Luxury
Oroton is a leading designer, known for their luxury handbags and accessories. This handbag in soft, natural tan leather is beautifully detailed with ample, internal pockets.
Valued at $595, it will be a stylish addition to any wardrobe.
Kindly donated by the Tan Family in memory of Julianna Tan
Treasured Memories
My Little Tribe is the culmination of many years of photography, parenthood, and the desire to celebrate family life in all its crazy splendour. Their speciality lies in gorgeous lifestyle photo shoots and portraits that showcase the unique relationships and characteristics of each family. Valued at $450, this voucher will provide an unforgettable experience to create a treasured item.
Kindly donated by My Little Tribe
Be Pampered
Give yourself the ultimate experience with this Serenity Beauty pack from Aesthetic Skin Design valued at $400. Featuring two Dibi Milano skincare products and a voucher for a deluxe facial, neck, shoulder and scalp massage and a hot oil hand treatment, you will feel completely spoilt.
Kindly donated by Aesthetic Skin Design
Sleep in Bliss
With more than 45 years of quality craftsmanship and exceptional design, leading silk brand GINIA has weaved a reputation for sophisticated, elegant nightwear – the ultimate luxury.
This beautiful, grey silk slip will have an exceptional feel on your skin. Valued at $179, you will be sleeping in 5-star bliss.
Kindly donated by Suzie Que Lingerie
Ignite Your Senses
Let the beautiful scents of Strawberry & White Jasmine fill your home and ignite your senses with these luxury products from Mor Cosmetics. Valued at $100, the candle and reed diffuser will give hours of fragrant pleasure.
Kindly donated by Pepperberry
Soothing Your Coffee Addiction
Satisfy your coffee craving anytime you want with this Swiss engineered, stylish capsule machine. To ensure you're ready to go straight away, the set comes with two flavoured capsule packs and a milk frother to finesse the perfect coffee. Valued at $110, you'll have no need to leave the house.
Kindly donated by Daniel Bendel in memory of Joshua Bendel
Sophisticated Winter Warmth
Walk away with these two gorgeous, cosy cashmere scarves in rose and chocolate brown. Complete the look with a $30 gift voucher from Reflections Jewellery. With a total value of $110, you will ooze winter style.
Kindly donated by Pia Wear and Reflections Jewellery
Be on Trend this Winter
This genuine Prene® light grey marle bag is the ultimate handy bag. It is lightweight, machine-washable, versatile and vegan too! Valued at $99, it is a stylish purchase for your winter wardrobe.
Kindly donated by Coco and Chloe
For the Red Wine Enthusiast
Savour the flavour of a 2017 Shiraz, produced with fruit from the boutique Conte vineyard in the central Heathcote area. With a spicy damson plum, black pepper, mocha and chocolate aroma, you will be grateful for the box of six.
Kindly donated by Conte Bros.
For the White Wine Sampler
Love your whites but can't decide on a type? This set of six is perfect for you. Sample an eclectic mix including Prosecco, Brut, Sauvignon Blanc, a White Wine Spritz and a White Frontignac.
Kindly donated by Indulge, IGA Canterbury, James Marcon Foundation in memory of James and Karen Philippzig in memory of Bree.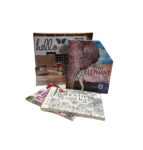 Practising Mindfulness
'Mindfulness' simply means paying attention to the present moment. Focus the mind to give yourself a bit of a 'zone'out' period with this activity pack including jigsaw puzzle, scrapbooking and adult colouring books.
Kindly donated by News Express Canterbury
Personalised Panelpop Photo Panels
Give new life to your favourite photos with PanelPop. Photos can be printed directly onto stone and timber surfaces using new generation, UV-cured ink.
This $250 voucher allows you to email in your favourite photo, choose your panel sizes and enjoy the thrill of framing it into life.
Kindly donated by PanelPops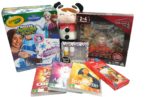 Kids Entertainment Pack 
With school holidays coming up soon, kids and grand kids will need to be amused. Keep them occupied for hours on end with this amazing activity pack including pencils, graffiti art pack, a Cars themed game of Trouble and much more.
Valued at over $100, this will have the holiday boredom sorted… for maybe an hour!
Acrylic on Canvas
Painted by local artist Ev Kerner, this farm scene will brighten up your home and take you back to days of old.