Alexandra Hamilton
Chief Executive Officer
Alex comes to TCFV with over 10-years' experience working with bereaved families in the not-for-profit space. She brings expertise in relationship, project and event management; as well as extensive knowledge of communications, fundraising and sponsorship. Originally from the UK, Alex has travelled nationally and internationally, speaking to audiences to passionately share her own story of courage, resilience and hope, as a bereaved Mum herself.
Alex is Mum to two "rainbow" babies – Shiloh and Bodhi and feels so privileged to work with families to impact change within the community.
Jenny Galati
Volunteer Coordinator (Centre, Phone)
Jenny has broad experience in all aspects of management, sales, customer service and events after owning and managing her own business for 10 years, to then taking on sales and customer service roles. While excelling in these roles, Jenny completed a Diploma in Event Management and has successfully run numerous events both on behalf of The Compassionate Friends Victoria and the car club she is a member of.
Jenny was the Events and Services Coordinator at TCFV for six years and is now warmly managing The Compassionate Friend's drop-in centre and a team of over 160 volunteers across Victoria.
Outside of work, Jenny completed TCFV's group leader training, has been facilitating the Rowville support group since 2009 and graciously devotes the small amount of spare time she has to The Compassionate Friends Victoria when needed.
Jenny LOVES retro cars, caravans and all things 60's. Jenny is married with three children, Benjamin, Danielle (deceased, age 16) and Anthony and is the proud grandmother of Isabelle and Audrey.  
Andrew McNess
Volunteer Coordinator (Groups)
Andrew commenced as volunteer co-ordinator (support groups) in January 2010. In 2006, Andrew completed his PhD – investigating sibling grief and social isolation through the lens of gender – and worked subsequently as a research fellow on health promotion projects for Deakin University, VicHealth and Epworth HealthCare.
Andrew has a special interest in safe and supportive workplace cultures. His co-ordination role with TCFV encompasses outreach, program development, policy, risk, research and website coordination. He facilitates a highly-regarded group leader training program annually and has adapted those materials for training of phone and chat responder personnel.
For that essential work-life balance, Andrew enjoys travelling with his family, reading and writing. A cinema enthusiast, he has published highly-regarded film analyses and hosts a website on the work of the late filmmaker Alan J. Pakula.
Andrew is the bereaved brother of Jeremy, 26.
Jane Moschetti
Community Education and Communications Coordinator
Jane Moschetti has volunteered at TCFV on and off for four years, helping with general admin duties in the office, recently she looked after the TCFV Facebook page for 12 months and has been the magazine editor since September 2020.  Jane is passionate about Community Education and the need to teach others about the long-term effects of child loss.
Jane's oldest son Joseph passed away suddenly in his sleep in July 2016, he was 18 at the time.  His death is recorded as unexplained.  Jane has two other children who were 15 and 12 at the time.
In her spare time, Jane enjoys watching her children participate in soccer and netball, walking her two rescue dogs Lucy the Labrador and General the Greyhound, sewing, upcycling old furniture, reading, gardening, cycling, travel, and browsing through vintage and op shops.
John Brown
Sibling Coordinator
John has been an active member of the Sibling Support group since 2017.
He comes with a diverse range of experience including his twenty seven year stint as Managing Director and business owner in the Manufacturing Services sector.
Additionally he has experience and qualifications in the Disability Services, Mental Health and Counselling areas.
Outside of work he keeps fit with regular jogging. His other interests include meditation, reading and of late messing about with wire/ceramic sculpture in his shed. He is a devoted family man and proud father of two.
John is the bereaved brother of Peter, 57.
Paul Gadsden
Accounts and Administration Officer
Paul has extensive experience in the not for profit sector, having provided bookkeeping duties at The Banksia Foundation, PANDA and at The Compassionate Friends Victoria since 2000 as well as managing his own business.
Paul manages TCFV's finances, administration, troubleshoots IT issues and moonlights as the official photographer at The Compassionate Friends events.
Paul is a bereaved sibling and proud father of three children. He is well recognised in the office for his cheerful whistle and frequent outbursts of song.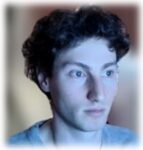 Jesse is a bereaved sibling who is passionate about art, learning, and helping others. He has broad experience in management, systems and has a bachelor of science. He takes pride in providing the best technical support possible for TCFV.
Jesse currently fills the role of IT Officer and helps turn things off and on until they work.
Sue Brown
Casual Support Coordinator
Sue Brown started Volunteering almost 20 years ago, almost five years after death of eldest son, Abe. Her roles included, general office work, including anniversary cards, public speaking and phone answerer.  Sue has been employed as Volunteer Coordinator with The Compassionate Friends Victoria for over 10 years and is currently a casual with the training programs and also Centre Coordinator, to cover leave, when needed
Sue's eldest son, Abe died on the roads 23 years ago, just weeks before his 20th birthday, leaving behind 2 brothers Elijah 15, Joshua 10 and a sister, Leticia 13, ages at the time.
Her interests are theatre, reading, gardening and friends but most of all, her family, who have and still remain her greatest pride.
Dianne Russell
Casual Support Coordinator
Dianne became a member of TCFV in July 2018, after the passing of her daughter Renee (24) to breast cancer.
She started volunteering in May 2019, supporting Jenny with administration tasks. With a background in administration, she was able to help support and train other volunteers.
Dianne formed part of the committee for our 'Night of Hope' gala in May this year and helped with the coordination of the raffle for the Gathering. Her love of helping others directed her in becoming a phone answerer and she finds great comfort in supporting other newly bereaved.
Dianne has a son Brad (32) but sadly lost her husband Greg to cancer, six months after Renee passed away.
Dianne enjoys catching up with friends, going to the movies, sitting on the beach but most of all, spending time with her two dogs Abby & Toby.